6 Steps to Hosting a Sizzling Summer Christmas Bash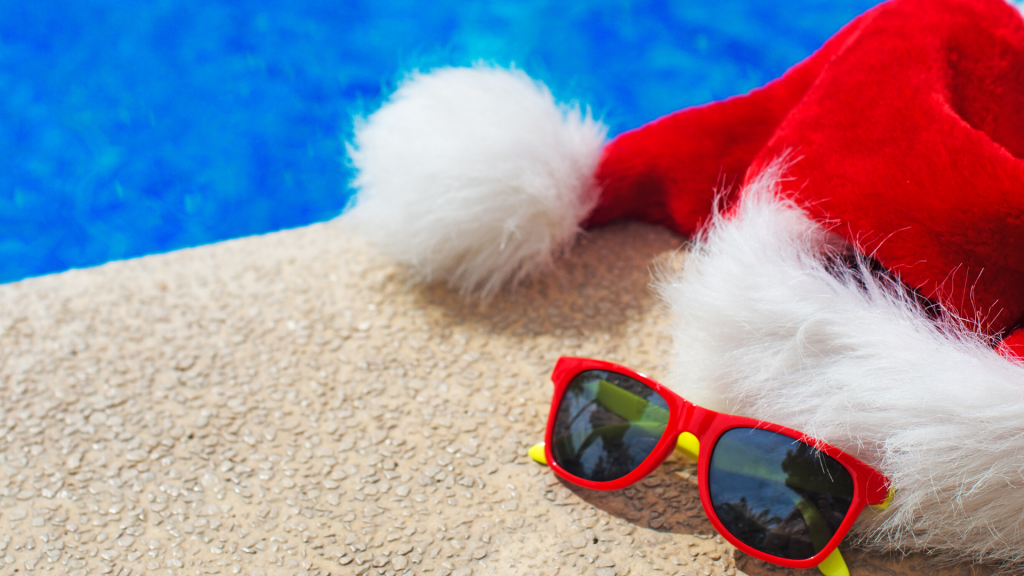 Don't be a grinch this summer!
It's finally summer! That means long warm evenings and even warmer days, chilled cocktails, slowing down at work, and most of all, it's Christmas time. Perfect timing for a summer Christmas Party!
There's no better reason to gather together your colleagues, or friends and family so get moving on planning your perfect summer Christmas party. But where to start? There's loads to do so think about how complicated you want this party to be, and how you can work smart, not hard, by hiring the right help.
6 Steps to a Sizzling Summer Christmas Bash
1. Decide your budget
Boring but essential if you don't want to suffer festive season regret (or hangover). Christmas can be an expensive time so allocate a realistic amount in advance. This will ensure the rest of your plans fall into place. Hiring a venue, for example – will cost more than a backyard do – so it's important to know what you're working with to make the right choices, and smart planning in advance will help you keep on top of your budget.
2. Where to hold your Christmas event
Corporate parties are very different to get-togethers for family and friends. There are expectations to meet - of the company, and staff, as well as colleagues – and questions to consider like who's paying, how fancy is appropriate, and the ease of access for people who generally don't live in the same area. If you plan to hire a venue, get in early as they're often booked out well in advance. Hotels, clubs and RSLs have event rooms; these often come with requirements like catering, wait staff and alcohol.
If you're holding an event onsite, like at home, how much fun can you make it? Places like one-stop Pillingers Product Shop, can help with marquees (in case of rain), and furniture like tables, chairs, ottomans and lounges and – oh fun – illuminated furniture. Let's face it, if you're thinking of hiring illuminated furniture, a Christmas party is the time to do it!
3. Type of Christmas event
Formal or informal? A sit down dinner? A cocktail party? Kids or kid-free? If you decide on outside catering, it's important to find a reputable supplier who will meet your expectations and will be appropriately licensed. Pillingers can help you in this area too, along with catering equipment.
While paying for catering for a party is decidedly more relaxing than preparing food yourself, it also comes at a cost – and getting wait staff will cost more than getting the kids to help out with non-alcohol activities, like serving food and clearing away.
Aside from food, other considerations are alcohol, decorations, lighting and music (DJ versus CDs or a streaming service like Spotify).
4. Choose a Theme
This can be fun and really make the party. How about Christmas in Hawaii? This will provide lots of scope with florid shirts, cocktails with umbrellas, and flamingos in the pool. That illuminated furniture? Perfect fit! And not too difficult for your guests to embrace.
Or something completely left of centre like a Christmas film – Elf, A Christmas Carol, or the classy old world It's A Wonderful Life.
The theme will also determine the music you play, although it's undeniable that, at this time of year, dance music and Christmas tunes rule, loudly and often.
5.What's on the menu?
Once you've decided on the venue, event type and theme, then you can decide on the food.
Christmas BBQ? Salads? Finger food? Full formal meal with all the trimmings? Even turkey if that's your thing. Dessert can range from pavlova to red/green ice blocks, particularly if it's hot.
What you don't want is to be slaving over the food in the days leading up to your party – that's no fun for you! Don't sacrifice yourself on the pyre of doing everything perfectly. Your ultimate objective is to have fun, and ensure your guests do too.
Keep drinks in mind. Frozen cocktails, jelly vodka shots, sangria, or punch. Or, in time honoured Aussie tradition – beer. Keep non-drinkers in mind, and in particular watch out for kids around the punch bowl!
6. Get into the party spirit!
Summer means fun for everyone, not just kids. So decorate. Put up lanterns or pretty lights. Drape tinsel everywhere, hang baubles, find a blow-up Santa and reindeer.
Organise games. If it's a backyard or beach event, hold a sand building snowman contest, pin the nose on the reindeer, a pinata, even a leisurely game of boules, Kris Kringle or a sing-a-long to fit your theme.
For fun evening parties – hire a karaoke machine and belt out Christmas songs. Make gingerbread houses using easy packs and lots of lollies. Or set up tables of board games.
For a cocktail event – giant chess, croquet, or a round table of 'Who would you invite to a dinner party?'. A summer Christmas party.
Whatever direction you choose, it's important to remember this quote from the Grinch: 'Maybe Christmas, he thought, doesn't come from a store. Maybe Christmas…perhaps…means a little bit more.