9 Tips to Hosting a Successful Fundraising Event
Raising money for a cause is one of the most worthy ways to give back to your community. Here are 9 tips to hosting a successful fundraising event.
Before you start, be clear about what you'd like your fundraiser to support. This will drive all other aspects of your plan. Learn as much as you can about your cause so you're clear how your fundraiser will make a difference.
1. Establish your goal.
What are you aiming to achieve with your fundraiser? Are you raising money for a local Sydney school or supporting a national charity? How many guests do you want to attract, and how much would you'd like to raise?
Whether it's $1million for a hospital or $500 to buy books for a school library, setting a financial goal will help you identify what you need to do to reach that figure, the guests to target, and the type of fundraiser to hold.
2. Create your budget.
A budget will ensure you're not caught short. Write down every aspect of your event – from hiring equipment and furniture, venue, lighting, catering equipment, waiters, food, advertising, and promotional material like flyers, ads and invitations. Then you can work out the support you need (more about this later), and means you can set your ticket prices at the right level to attract guests.
3. Target the right audience.
Think about who is likely to attend, how much they're likely to pay, and what will attract them to the fundraiser. If it's a local cause, think about who's who in your area – politicians, local media. If it's broader, think about advocates for that cause, influencers, people who want to be seen.
4. Get people in the door.
With so many causes competing for donations, it's important to differentiate your fundraiser. Put yourself in the guests' shoes. What might you might expect to pay for this type of fundraiser? Would you expect food, music, raffle prizes, speakers, fun activities? This will also help you set a ticket price that is appropriate for your event.
The type and size of the fundraiser will determine your advertising plan. For a local cause, think about networking groups, libraries, word of mouth, mailbox drops. Local media are often looking for good community news stories, which national media look for high profile people or a unique aspect. Either way, media look for an "angle" so work out a good story for them to make their job easier.
5. Lock in your support team.
The right support can make your event a successful one, and with decades of experience, Pillingers Hiring Service offers all the support you need. As a one-stop shop service, they can help you directly or put you in touch with other trusted hospitality and security providers to create a fuss-free event.
6. Choose a location and venue.
7. Bring your fundraiser to life.
Time to think about the "look" and logistics of your event. Pillingers Hiring Service offers a wide range of marquees – beautiful pavilions to grace the most elegant of gardens through to steeple marquees, the traditional 'peg and pole' marquees, or even a custom-made option.
They also offer lighting to give your event a special touch, as well as flooring for a more even setting, particularly if your event is on a lawn, beach, or even over a pool.
And make sure your guests are comfortable with quality furniture. Think about ottomans and lounges for casual events, or tables and chairs for a more formal occasion. Pillingers Hiring Service offers all these and more.
8. Find sponsors.
It's hard to do it alone, so think about ways to attract sponsors to give your fundraiser a boost. Look for people who will derive mutual benefit from attending your event. Businesses or individuals might be interested in contributing financially or by donating products or services. You might be able to negotiate vouchers, discounts, or gifts from local or more prominent providers. If you point out the benefits to them – like promoting their service or name – they're more likely to agree to participate.
9. Time to launch!
In the lead-up, prepare a timeline of all logistics so your event runs smoothly with no last minute panic.
Whether your budget is low cost or high end, Pillingers Hiring Service can support you to make it a successful fundraising event. Most of all, remember that raising money is a serious business but a fundraiser should have an element of fun. Find that fun, and enjoy it. That is a bonus in tips for hosting a successful fundraising event. It is always crazy the day and hours before but somehow the event always turns out great, so try to enjoy it.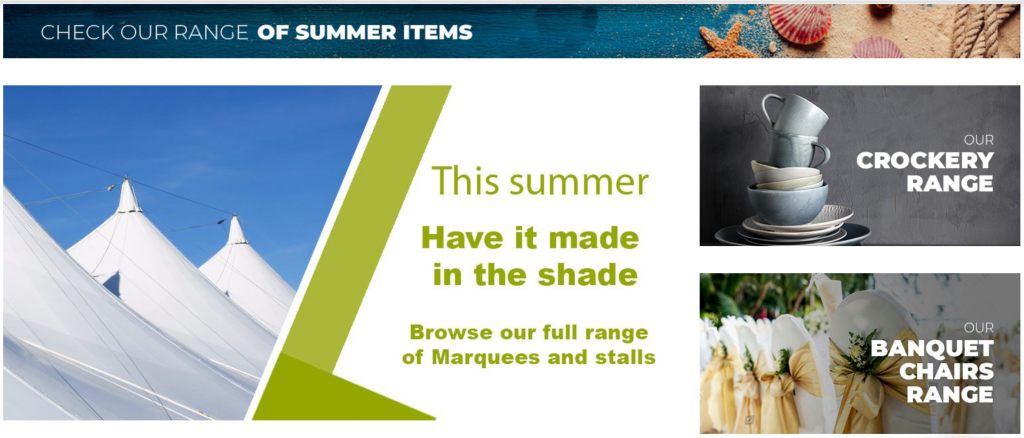 Please make sure to keep up to date with the latest Covid-19 Restrictions.