Autumn Bride: we speak to some of Sydney's best makeup artists to get their opinions on the hottest wedding looks for 2014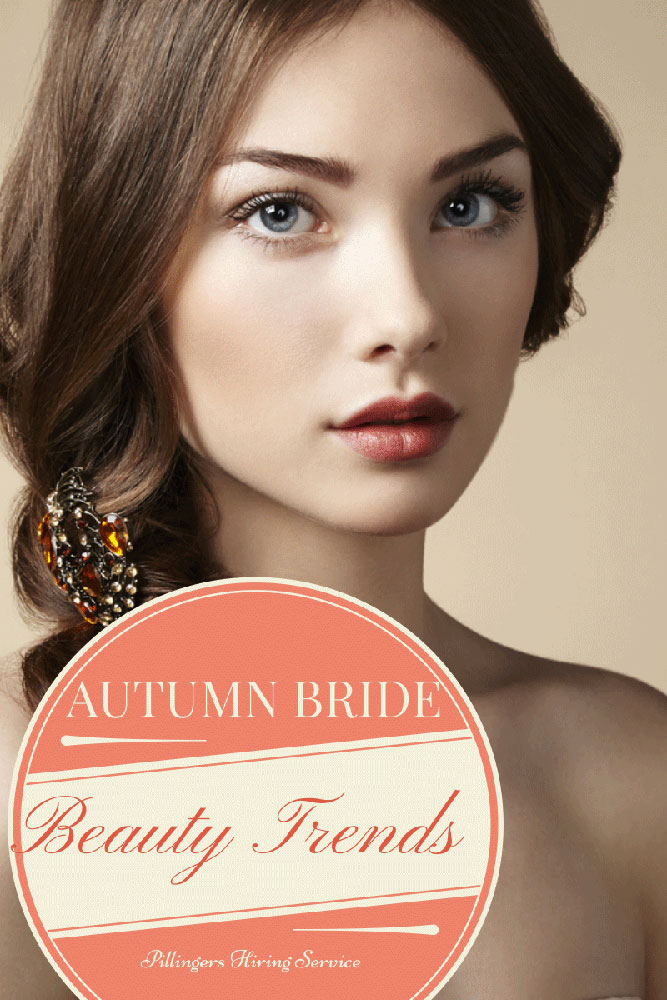 Autumn is a wonderful time to get married – with the colours changing and the temperature dropping, it goes great with wonderful bridal looks. We've asked one of our favourite makeup artists, Juliana Stojanovska, to share some of her makeup tips and tricks for the season.
---
What looks can we expect to see in 2014 (hair and makeup)?
From messy, tousled waves to a complete woven braided up-do, or even a Grace Kelly inspired bob – which is done by creating a natural look by rolling the hair under and pinning it so that it frames the face.
Make-up trends for 2014 may embrace the "natural glowing skin" look with a hint of gold highlight on the lip, to a fiery red shade of lipstick that accents the facial features and channels the 50s era, or a glowing make-up look with an exotic Egyptian-inspired eye.
---
Where do you get your creative inspiration?
Part of it comes from the latest looks and latest trends, however more importantly it is an innate part of who I am. Colour and shape have always been a part of me since I was young. Inspired creativity arises best when you set your intentions with full clarity and awareness. I believe make-up and hair is truly limitless.
---
Where should brides-to-be go to source out inspiration for their looks?
Dazzling bridal beauty books, the Internet and the latest trending magazines, as well as their current and up-to-date hair and make-up artists.
---
Do you think brides should have an exact idea of what they want to look like or be a bit freer with it, letting the makeup artists lead them in the right direction?
A bride will always know how she wants to look, however as a professional hair and make-up artist we should guide them with ideas and make her look the very best that she will allow you to look. It depends on whether the bride is going for a natural look or whether there is a specific theme to the wedding. My intentions, however, are always to make the bride's best features stand out and highlight her natural beauty.
---
Do you have a beauty regime you can suggest for brides leading up to the big day?
As the centre of attention you'll want to look and feel your best, both inside and out. Exfoliate any dry skin (face and body) and moisturise daily leading up to the big day. Your skin should look healthy and dewy. Hydrate with plenty of water daily and make sure you get professional brow shaping, as well as a new hair colour and fresh cut.
---
When it comes to the grooming of the groom and his groomsmen, what's your professional advice? Male facial hair is popular at the moment, what's your advice in that department?
Personally I believe facial hair can look good, however, if it is worn for the wedding it should be clean and kept tidy. Some men look great with facial hair and a cut and tidying up of the hair should be done two days before the wedding. And, of course, a clean, shaven face always looks sleek.
---
What should a bride do if someone in the bridal party doesn't like the look that's been chosen for them?
You have chosen your bridesmaid for a reason, so making sure she is also comfortable and happy will make your day more pleasant. Bridesmaids feel just as excited about being a part of your wedding so a compromise should be made as to the chosen look so everyone is comfortable and looks flattering.
---
What's your favourite look for autumn 2014?
Autumn is one of my favourite times of the year so I actually feel flattered to be asked.  I love the orange, copper tones in the trees and falling leaves - it makes for a great backdrop in photos. So my suggestion in tones and colours would definitely be earthier such as brown, orange and yellow, even hints of coral, for a sway of an autumn feeling.
Juliana's work can be seen on her website here: http://julianamakeup.com.au/
Image 1 is owned by Pillingers Hiring Service. Images 2-3 via Juliana Makeup.
---
Feeling inspired by this post? You may also get a kick out of our favourite wedding blogs: Pillingers Picks: The 5 Best Wedding Blogs