Autumn Bride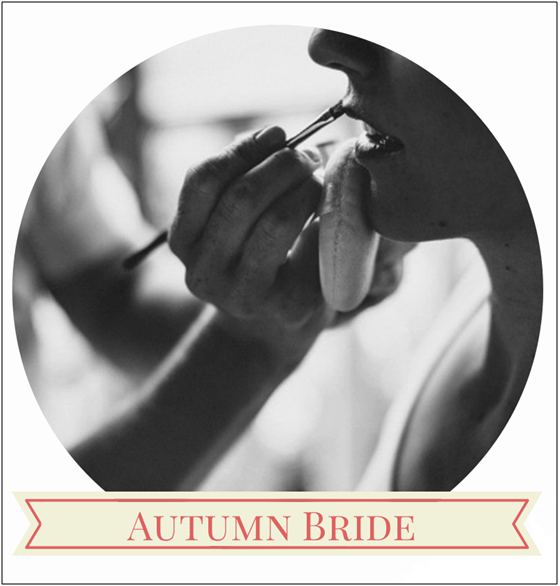 Sydney's best make-up artists give us their go-to looks for weddings
Hiring a makeup artist for your wedding day is non-negotiable – for makeup that's going to stay on all day and look great in photos, you really need the help of a pro. We've enlisted one of our favourites, Nicola Johnson, to share some of her makeup tips and tricks.
---
What looks can we expect to see in 2014 (hair and makeup)?
Vintage inspired looks – the winged eyeliner will be back with full force, and eyeliner in general. Then there are matte bright lips: pinks and oranges, as well as reds in all their glorious hues and finally, burgundy! Then there's the clean and fresh look with pure makeup, subtle highlights and contours, clear glossed lips and dewy skin.
As for the hair, we're going to see a lot of long bobs, simple waves, no-fuss hair and I'm sure the blunt fringe will make a return come winter.
---
Where do you get your creative inspiration?
I'm originally from London, so I've always read British Vogue – I consider it my bible!  I always look to designers from the UK for inspiration – they love to push boundaries. Also what I see on the runways during fashion week - London, Paris and Milan – the clothes, the hair and makeup, they are setting the trends to what filters down to the public. I also draw inspiration from the people around me – music, art and my surroundings. I let my imagination run free.
---
Where should brides-to-be go to source out inspiration for their looks?
There are so many different blogs/wedding sites/magazines; brides really do have so many options online. I always recommend wedding fairs where you can see a runway show, the models will have had hair and makeup done so it helps you visualise where you want to take your own individual style for the big day.
---
Do you think brides should have an exact idea of what they want to look like or be a bit freer with it, letting the makeup artists lead them in the right direction?
It's always good to have an idea of what you want; photos for inspiration are always a good idea. I always have a chat with my brides to find out who they are as a person, what their likes and dislikes are, what kind of music they like, how they dress – this will all help me get an idea of where to take the makeup and together we can come up with the perfect look. Communication is key and the trial is all about having fun and experimenting with different looks. The bride should also feel comfortable telling the makeup artist what they like and dislike about the looks that are created during the trial. While I will always advise what I think would suit their individual face shape and offer my honest opinion, the bride must always feel 100% happy and confident with her makeup.
---
Do you have a beauty regime you can suggest for brides leading up to the big day?
See my blog post about this very thing by clicking here.
---
Like what you read? Check out more of Nicola's work at any of the following links:
---
Feeling inspired by this post? You may also enjoy reading this: Wedding Beauty Secrets: Sydney Brides Stay Picture Perfect From Start to Finish.