Autumn Party Looks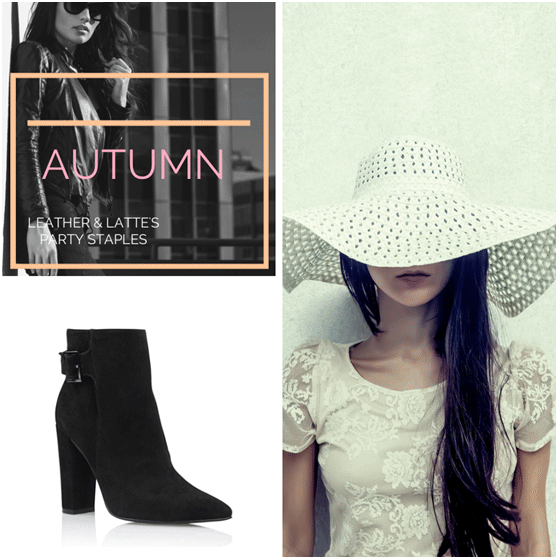 Interview with Sydney fashion blogger Andrea
With Sydney's sticky, sweaty summer now well and truly over, it's time to get out of our shorts and singlets and into something more appropriate for the weather. According to our blogger friend Andrea from Leather and Lattes, Autumn/Winter 2014 is all about great boots, a great coat and layers! Lots of basics in black, grey and white, too. We handed over question-asking duties to the ladies of the office to help lead us in the right direction.
---
1. What's your top three for party looks this autumn?
I love lace dresses in black, cream or colour – try a lace dress in black with low heeled ankle boots for a daytime party!
Mid length full skirt with midriff, ladylike with a modern twist! And, finally, 70s style printed jumpsuits – so sexy and uber cool.
---
Topshop is always bang on trend and won't blow the bank.
---
3. What's your party staple?
A fabulous clutch complements any outfit. Zara always has beautiful styles.
---
4. How can girls turn those celebrity red-carpet looks into stylish yet practical outfits for a wedding, corporate do or launch party?
Lots of the high-street stores mimic red carpet designer trends, so I would find a style you like or think would suit you, and find something similar. Then just add great hair and make-up. I always get a professional blow dry or get my makeup done for a special occasion!
---
5. If you've got pre-party nerves and are struggling to find the right outfit, what do you do?
Firstly, I calm myself down by reassuring myself I have more than enough clothes to pick from! Then I go for something black. Start with a black base and pull out the accessories you've forgotten you own. Sometimes the pieces that you've forgotten about end up getting you the most compliments from others!
Visit Andrea at Leather and Lattes, or follow her on twitter here.
---
If you liked this post, you may also enjoy reading: "Autumn Bride: Sydney's best make-up artists give us their go-to looks for weddings "