Fabien's Sydney Festival Round Up: Newtown Festival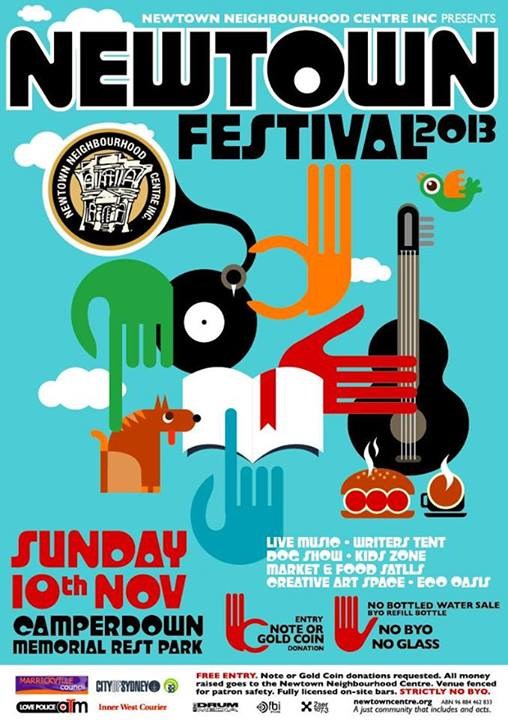 Fabien's Sydney Festival Round Up: Newtown Festival
Our favourite event on the Pillingers November calendar is easily the Newtown Festival. For one day only, Camperdown Rest Memorial Park will be transformed into a gigantic playground for kids of all ages, featuring kids' entertainment, art, dog shows, music and plenty more.
For the past 35 years, the Newtown Festival has celebrated a community that is dedicated to tolerance, diversity and acceptance. This year will be no different.
For the kids, there is a dedicated Kids' Zone, complete with face painters, jumping castles, a petting zoo, kids yoga and more! There's a great lineup of entertainers including the Magic Mic Conway Show and The Amazing Drumming Monkeys, as well as entertainment from Aboriginal Elder Aunty Ali Golding and other storytellers, letting kids' imaginations lead them on a journey to new and exciting places.
Newtown wouldn't be Newtown without the art and creativity that beckons you around each corner and the Newtown Festival will be no different. A new addition – the Live Art Hub – will be a platform for expressing your creativity and imagination and a way to interact with local artists. Local bookshop, Better Read Than Dead, will be sponsoring the Writers' Tent, a space with readings by prominent authors, panels and discussions.
Lovers of pups can enjoy the Dog Show, with events like the Doggie Dash (a round for every size of dog, then an open dash for everyone!) and a prize for best Celebrity Look-A-Like.
Last, but never, ever least, there's the music. Head down to the ampitheatre for acts at the Federation Stage, which include Guineafowl, Tuka with The Basement Big Band, Dappled Cities and more. The more intimate Essential Stage will be hosting the likes of Shining Bird, Oscar Key Sung, Palms and more. Kick back with a beverage and enjoy your local favourites and maybe even discover someone you haven't heard of before.
There's all this and more for just a gold coin donation upon entry, so bring your friends, bring the kids – just make sure you don't miss out!
Newtown Festival
Camperdown Rest Memorial Park, Newtown
Sunday 10 November