Festival Tips: How to go and throw the perfect festival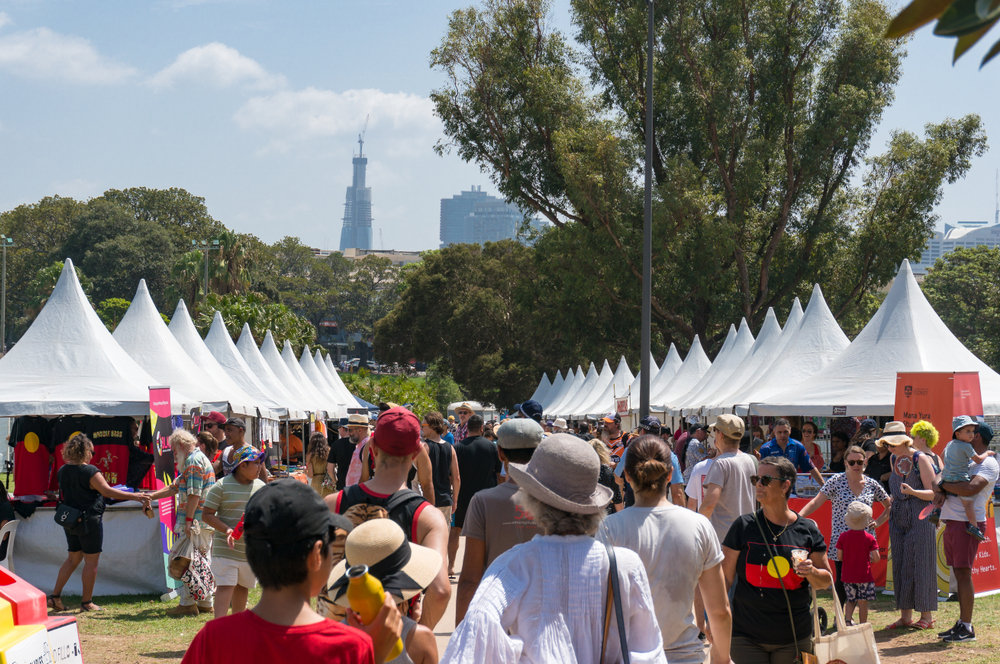 As Sydneysiders, we make a big deal about our gorgeous beaches and sparkling harbour… but there's a very strong argument for Sydney = festival. Any weekend, in any season, there's an event or two going down somewhere in Sydney and its outskirts. Whether the focus is on music, culture, religion, film, dance or something else – festivals bring tribes together to celebrate. Here are our top tips for attending or hosting a great festival.
Not a festival goer? Get to know these key rules.
Book early. Tickets for Sydney events sell out fast.
Check out transport options. There may be festival shuttles – always a bonus. Avoid driving – the temptation to socialise and have a wine or five can be strong. Parking is always tricky. Book a cab or driving service if there's no public transport.
Check the festival line-up or schedule. If they're all day (or all weekend) affairs, pick when you're going to rock up if you're planning to burn through the night.
Research festival rules – no one likes surprises. If an item is banned, like glass bottles, then simples – don't bring them in. You risk being thrown out or losing whatever you've smuggled in. Which brings us to the next point…
Festival food and drink can be pricey. Decide on a budget. Stick to it.
Stay hydrated, whether you're outdoors or indoors. Nothing screams hospital louder than dehydration.
Pack stuff everyone needs. A blanket, sunscreen, hand sanitiser, baby wipes (useful for hands, faces, and butts if toilet paper runs out), a soft blow-up ball that's fun to toss around a small group or a large one…
Keep your phone charged (take a power pack and charger), stay close to friends, don't break anything.
And as we say in our house – don't drink anything you
haven't opened yourself, and don't leave your drink (or food) unattended.
Once you've got a few festivals under your belt, you will be sharing your own tips on attending a festival. So, there's no reason you can't host one for friends and acquaintances – whether that's in the backyard or somewhere more public (you'll likely need a licence but that's a story for another day).
Make-your-own festival ideas
Got kids? Think music and dancing. Throwdown some flooring, hang some coloured flashing lights, you've got yourself a dance party. For littlies, think about a Wiggles dance party. For tweenies, the Spotify playlist includes Justin Bieber, Billie Eilish, Selena Gomez, Ariana Grande. Depending on your older teen's tribe, think The Weeknd, DJ Khaled, Lizzo, and some are even going through an 80s flashback (maybe a silent disco might be best here!)
Music festival – host your own Coachella, Lollapalooza, Burning Man, Glastonbury, or the Montreux Jazz Festival for those who prefer a smoother vibe.
Uni students – think dress-ups or even fashion shows. Pick a theme, say 'Outer Space', and see who can do their best catwalk impression. Or if you're lucky and have friends at fashion school, get them to model their designs, striding down one of our catwalks. Or you can host a music start-up festival to give fledgling musicians a chance to be heard.
A mini-rave – make it a silent one to avoid police calls.
What you need to throw your own festival
So your theme will dictate what you need. Here are some options.
Flooring and staging. There's no reason
your festival can't look professional at a reasonable cost from Pillingers
Hiring Service. You can hire a dance floor to protect your lawn, carpeting,
even marquees that come complete with flooring. If you've got a pool, don't
waste the space – hire a cover that sits on your pool and converts it into a
dance floor.
If you're hosting a fashion show, a catwalk would add extra glam. You can
also hire clothes racks and mirrors for preparation.
If you're considering on a bigger scale, Pillingers also offers large stages – both freestanding and within large marquees. This would set the scene and be a great experience for upcoming performers.
Illuminated furniture. Light up the night
with glowing lounges, chairs, tables, bars – all shapes and sizes – and even a
giant cube or ball sculptures. Your festival will come to life.
Loos. For large-scale events, toilets are
a must.
Fancy lighting. From fairy lights to lightboxes, chandeliers, mirror balls, and those lights that chase you around, Pillingers has a great collection to add atmosphere to your festival.
Whatever theme you settle on, don't do a Fyre festival. Get yourself organised in advance and give your guests the time of their life. Cue Dirty Dancing.
Whether you need tips on attending or on hosting a festival one thing you must do is contact us now for all of your festival needs. We offer a huge range of items to ensure that your festival has all that it needs to be the event of the year.
Please make sure to keep up to date with all Covid-19 guidelines.