Sydney Weekend Festival Round Up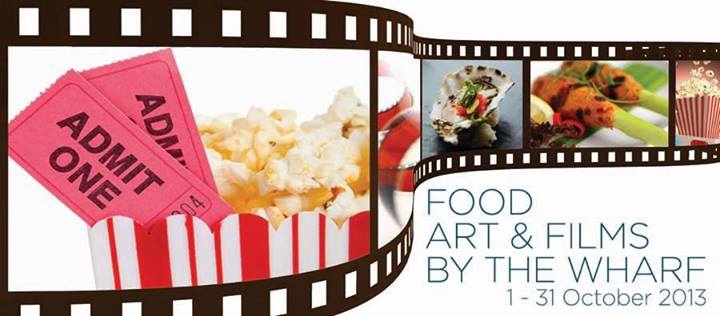 Food Art & Film Festival at King Street Wharf
Yes, Pillingers are still carrying on strong at the Food Art & Film festival is still kicking at King Street Wharf at Darling Harbour, because who could ever get sick of any of those three things? King Street Wharf is taking a whole month to work out if it's possible.
In case you needed reminding, the Food aspect of the festival includes a specially curated menu for Good Food Month from venues including Cargo Bar, George's Mediterranean Bar & Grill, The Loft, Wharf Teppenyaki and more. With meal prices starting at $30 per person, your ticket also includes a complimentary drink and a ticket to the Foodie Films outdoor cinema. Every Thursday and Friday a different foodie-themed film is screened – this week it's My Big Fat Greek Wedding and Ratatouille. Seating for the outdoor cinema is limited to the first 100 patrons, so be quick!
Finally, after enjoying a good film, be sure to check out the Pop Up Gallery on the wharf, a joint venture by Arts Brookfield and Platform72 Gallery. With a bunch of works by a lot of local artists and free entry, it's well worth a visit. If you haven't gone yet, be sure to do so soon because it'll be over before you know it.
For more information on Food on the Wharf, please visit the King Street Wharf website.
The Outdoor Cinema is located on the Promenade, south of Cargo Bar. Its opening hours are from 7pm for an 8pm screening every Thursday and Friday in October.
The Pop Up Gallery is located on the Promenade, next to George's Mediterranean Bar & Grill. It is open daily in October.
Food Art and Film
King Street Wharf, Darling Harbour
From 1 – 31 October 2013
---
The International Deaf Festival
The Deaf Society of New South Wales is old. Really, really old. 100 years old, in fact.
And you know what happens when you turn 100? You get a letter from the Queen. But not just that, you get a whole weekend of celebrations – you even get a festival!
And that's exactly what the Deaf Society is going to do. Join them at the International Deaf Festival this Saturday, October 19, set in Darling Harbour's beautiful Tumbalong Park.
International Deaf Festival
Tumbalong Park, Darling Harbour
10 am -4 pm
FREE
---
Fairfield City's Culinary Carnivale
This weekend, Fairfield is turning Spencer Street into a fiesta de calle!
Celebrating everything that's great about Spanish and Latin American culture (which is everything), the festival runs from 11.00am to 4.00pm on Saturday October 19.
It features delicious food, entertainment (carnivale dancers, drummers and more) and the opportunity to get up close and personal you're your favourite football star (that's the soccer football, not rules or league football). If you're a seasoned culinary television viewer, you'll be used to seeing Miguel Maestre working his magic on-screen, and at the Culinary Carnivale you'll be able to see him work it in the flesh. Renown for his co-hosting role on The Living Room show on Ten and appearances on MasterChef, Miguel will be cooking four of his famous dishes, including crowd favourites paella and churros.
Make sure to make it down to Fairfield for the Culinary Carnivale this Saturday. Entry is free, so you have no excuse to miss out! To get into the carnivale spirit early, be sure to download the Fairfield's Feast signature dish list and the Breads of Fairfield City Centre bakery map on the Fairfield City Council website. http://www.fairfieldcity.nsw.gov.au/default.asp?iNavCatId=11&iSubCatId=3556
Culinary Carnivale
Spencer Street, Fairfield City Centre
Saturday, October 19
11.00am – 4.00pm