The perfect backyard bash during COVID-19
Like most people, you're probably fed up with COVID-19 and the way our social lives have screeched to a halt. Spring has now sprung, the weather is generally warmer, which makes it the perfect excuse to get your friends and family together for the perfect backyard bash during COVID-19, Whether it's for a reason – say, to celebrate a birthday – or just to spend time with the people you've missed seeing this crazy year.
Luckily for us, we live in NSW, so an easing of restrictions has meant we can now have up to 20 people at our house or in a public space at any given time. This limit includes both adults and children. However, it's not a daily limit so you might consider scheduling 'drop in' times to make sure you don't go over the 20 people rule.
We know one family that combined their children's birthdays: they invited one half of the family to a brunch, and the other side to an afternoon tea. Masks were party-themed to make the atmosphere less stressful, people were seated 1.5m apart (the kids had fun measuring out the distance between seats and plating), food was home-made pizza instead of the usual potluck buffet spread, and games were carefully planned to maintain social distancing. There was no crossover of people, and everyone had a great time.
So, it can be done in a fun but safe way. And remember, parties are supposed to be enjoyable for everyone, including the host! So here are some ideas to make sure your party is easy – even during COVID-19.
Pro Tip: Create Party Bubbles to keep your event fun and safe.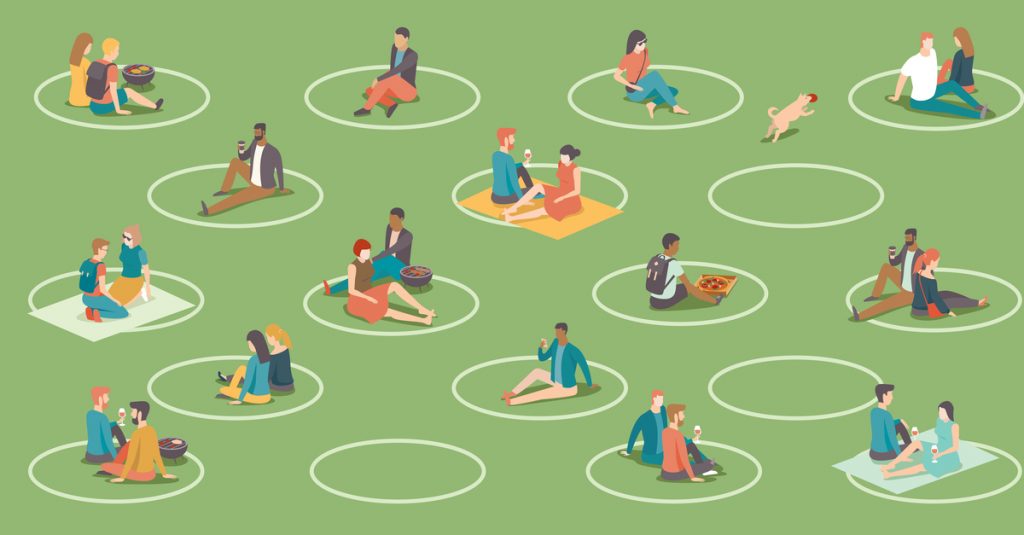 5 tips to hosting the perfect backyard bash during COVID-19
1. Work out the arrangements that suit you. Perhaps hold separate get-togethers over the course of a day or a scheduled series of drop-ins. Set the ground rules before people arrive, so they know what to expect, and what's expected of them. This includes the use of facilities like bathrooms. It's better to be straightforward upfront rather than face an uncomfortable situation during your party.
2. Consider al fresco dining, and set up your party outdoors if you have the space. This also makes it easier to maintain social distancing.
Plus, you're not restricted by the furniture you have indoors. Low-key or luxury, modern or shabby chic, we have a great selection of furniture for you.
Click here to browse these items in our catalogue.
For a practical approach, you can set up folding bistro café style tables and chairs. Set them 1.5m from the next set for social distancing, and pair people up. Get them in white or aqua, or mix it up.
For an indie 'laid back but classic' look, there are stylish white web coffee tables which you can match with natural rattan stools or white wicker stools.
Or grab a series of deck chairs so everyone can laze in the spring sun while the kids run around.
3. If it's still a little cooler than you'd like or the weather reports have predicted rain, you'll find a suite of marquees and tents of varying sizes to keep everyone protected from the elements.
There are also outdoor heaters to keep everyone warm – those afternoons can get a bit nippy when the wind picks up. The marquee will also help provide shade if the sun is too intense.
4. Prepare all the food in advance and keep it warm in a hot bain marie to ensure it's held at room temperature. And ice buckets! Good for champers but you can also use it to keep wine, beer, and soft drinks cool, or off the floor from the kids.
5. Place hand sanitiser and paper towels everywhere. Be aware of common touchpoints including door handles and kitchen utensils like serving equipment.
Remember outdoor party entertainment – some social distancing games like toss the hoop and ball games if your backyard has space.

Humans are inherently social creatures, and the experts say social isolation – while perfectly reasonable as a way to protect us from the coronavirus – can have an impact on our mental health. So stick to the rules – maintain 1.5m at all times – and follow sensible guidelines: ensure older people are masked, don't share food, and keep aware of children (and their hands!).
And before you hold your backyard party, keep an eye out for the latest restrictions introduced by the NSW Government and Australian Government.
For all your event planning needs, come to PHS. We have everything you need to make your party easy to run, and fun to host.