Wedding Hire: The Art of Table Centrepieces | Pillingers Hire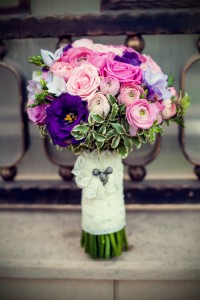 When it comes to getting down to the finer details of the wedding reception, it's important not to disregard the table centrepiece. From the classic to the quirky, there are many options for experimentation for any and every budget.
Before the Internet – whatever that was like, I can't and I don't want to remember – brides-and-grooms-to-be would have been easily convinced by bridal magazines that their only option for table arrangements would be the classic white rose and thin, elegant candle upon vintage candleholder. These days, though, Pinterest and other inspiration-search sites have given us the OK to let our true personality shine through every aspect of the nuptial planning process. Here are a few themes that we're a fan of at the moment.
---
A Twist on the Traditional:
There's a reason why white roses are symbolic for weddings. They're beautiful, and they tend to go with many other elements of the ceremony. We like this casual twist – instead of meticulously organised and wrapped in ribbon, these roses are arranged in coloured glass vases – perfect for an afternoon reception.
---
Mason Jars for Everything:
If you've spent but just a minute on Pinterest, you'd see how its users are stir-crazy for mason jars. Drink out of them, eat out of them, store your life in them – there's apparently few things mason jars aren't good for. You can incorporate them into the big day by getting a little bit DIY with a few bits and pieces around the house: a plank, some twine and a bit of electronic drill know-how are all you need to make standout lighting centrepieces for an evening reception that will have your guests talking.
---
Full of Hot Air:
Those with nimble fingers and a lot of patience will be able to make easy work out of these miniature hot-air balloon centrepieces. Be sure to have someone fill the balloons just before guests arrive at the venue to ensure that there are no half-deflated duds by the time your friends and family sit down to eat. The best part about these centrepieces is that you can incorporate them as a unique part of the celebrations – get everyone to attach a message to the "basket" of the balloon and let them go!
---
Colourful Carnivale Creativity:
An easy way to skimp on price is to do the old part-hire-part-DIY trick. We're a fan of this simple but effective setting – spray-painted twigs arranged in sourced clear glass vases. Painted in a range of fun colours, this centrepiece adds just the right amount of whimsy and colour to the occasion. It also helps during a springtime wedding to give a bit of pollen relief to guests who suffer from hayfever while still having something pretty to look at!
These are just a few of our favourites so far, what are some of yours? Are you more interested in the personalised, the quirky or the classic themes – or are there others we haven't even begun to think of yet? Let us know – we're always adding to this list.